Welcome!
If you'll be joining us for a time at Fallen Leaf, this page is for you. It's loaded with information about how to find us, and what to bring.
Coordinates
Fallen Leaf Lake is located near the southern shores of Lake Tahoe, in California. Here's how to find us, and how to get in touch if you get lost...
Basic Contact Info

The Mitchells
661 Fallen Leaf Rd.
Fallen Leaf, CA
Do not post letters to this address.
(530) 544-1082

By Air

If you're arriving by private plane, you'll want to head to the South Lake Tahoe airport. There are no commercial routes to this airport at this time. It's very close to Fallen Leaf - just give us some warning and it should be trivial for someone to meet you at the airport.
If you'd like to come by commercial air carrier, you can fly into Reno Airport. This is about an hour from Fallen Leaf by car. In all likelihood, we'll just come get you at the airport. Alternatively, car rentals are offered at this airport, or you may take a free shuttle to the South Shore casinos which are about 20 minutes from Fallen Leaf by car. If we have a large crowd, we may ask you to do this and we'll pick you up at the casino.

By Car

Most visitors to Fallen Leaf arrive by car. We're about four hours from the Bay Area, depending on traffic. If at all possible, please try to carpool. We're very parking constrained year round, and especially in the winter.
Any of the major Internet mapping sites can give you quite accurate directions to our location: 661 Fallen Leaf Road, Fallen Leaf, CA.
If you're savvy enough that you're actually reading this web page, but luddite enough that you're not up to the challenge of getting driving directions from the Internet, here's one safe way to go:

Make your way to The Y - the intersection of US50 and US89. There is a Raley's grocery store, a McDonald's, a gasoline station, a Kmart, some outlet stores, and a ton of other retail at this intersection. You can't miss it.
Head north on US89 for a few miles. You'll wind through the trees and eventually pass through Camp Richardson.
Shortly after passing through Camp Richardson start looking on the left for Fallen Leaf Road. If you get to a hill where you start climbing sharply, you've gone way too far.
Turn left on Fallen Leaf Road, and continue until you come to 661 Fallen Leaf Road. The road passes near the lake, below the house. The docks will be on your right and the house on your left.
Park! You're there.
Packing
Fallen Leaf is about as casual as it gets. Unless you've been forewarned about a particular function that demands otherwise, you will not need to dress to impress. Bring the seasonally-appropriate equivalent of jeans and flip-flops and you should be good to go.
You should also feel welcome and encouraged to bring recreation equipment appropriate to the season in which you're visiting, and a camera and a book will never serve you ill.
Summer

Depending on your interests, think about bringing your wetsuits (we have loaners, but nothing beats one that fits you), fishing tackle, bicycles (road or mountain), hiking boots, backpacks, water bottles, climbing gear, wakeboards, water skis, etc. We have a ski boat, miles of tough hiking trails, great fishing opportunities, and pretty much anything else you might think would be at a mountain location (including hammocs and shade trees where you can do absolutely nothing if you like :-)

Fall

Fall is absolutely gorgeous. There's generally nobody around, it's crisp and cool, there's still great hiking, and it's seldom too warm to spend the day by a cozy fire if that's what suits you. The ski boat is usually out of the water by early fall, so you can leave your wetsuits and other "boat gear" at home, but the fishing boat will still be available, and the fishing is generally great. It's a good time for hikes, etc.

Winter

We are located very near Heavenly Valley ski resort, and near enough to Kirkwood. That said, most visitors don't end up making their way out to the ski resorts for two primary reasons: The first is that access in the winter is by snowmobile. This makes it a bit of a chore to to and from the resorts. It's completely do-able though, especially for small groups, so please don't hesitate to bring your ski/snowboard gear if you'd like. The second reason that people don't seem to do much skiing is that there are so many fantastic alternatives around the house. There's sledding, snowshoeing, and sitting by the fire. We cook great meals and have snowball fights, and otherwise just enjoy the company of the group we've assembled. Presented with this fantastic alternative, folks often just stick around and enjoy a lazy day in good company.
But lets return to the "access by snowmobile" bit for a second. This raises some serious issues...

However you intend to spend your weekend, you must bring warm clothes. It's often very cold on the ride in. You should have a hat, gloves, a warm jacket, and ideally you'd have waterproof pants, too.
You need to pack light, and in closeable luggage. Luggage goes in on a trailer that bounces along the road behind the snowmobile. If you've got an open-topped beach-bag or purse full of stuff, it's going to end up all over the road. Similarly, if you bring the kitchen sink, it'll necessitate multiple luggage trips. Pack like you're going on an "adventure" vacation, not like you're taking a car trip and can just unload your stuff into the house by walking a few feet.

Spring

Nobody goes to Fallen Leaf in the spring. Well, that's not completely true, but it's not that popular. If you're headed up, it's probably best to plan as if it were still winter, but definitely check with us since much depends on how much snow has melted. The best thing about spring is undoubtedly the wildflowers. If you happen to be there when the snow's gone and the flowers are still there, you'll want to have some sturdy boots to go exploring.
The House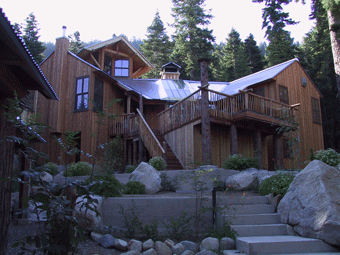 The house is actually composed of three separate structures, with a combined total of five "real" bedrooms, and five baths. On top of that there are myriad quasi-bedrooms that we can use to pack people in. We can sleep 4 couples in comfort and privacy, and up to 23 people under roof if we pack people onto every couch, bed, or other soft space. There are also some deck areas which can be used for sleeping if the weather permits.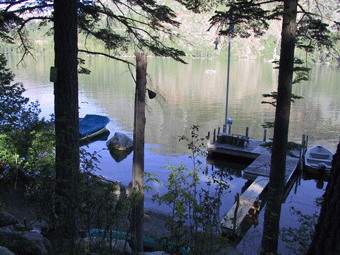 Below the road is a dock area with two docks, an aging Ski Nautique waterski boat, a Gregor fishing dingy with a 10-HP motor, and several kayaks suitable for paddling around the lake.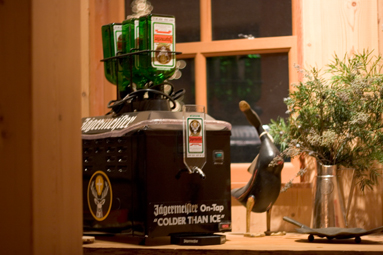 And of course, there's a Jaeger machine...